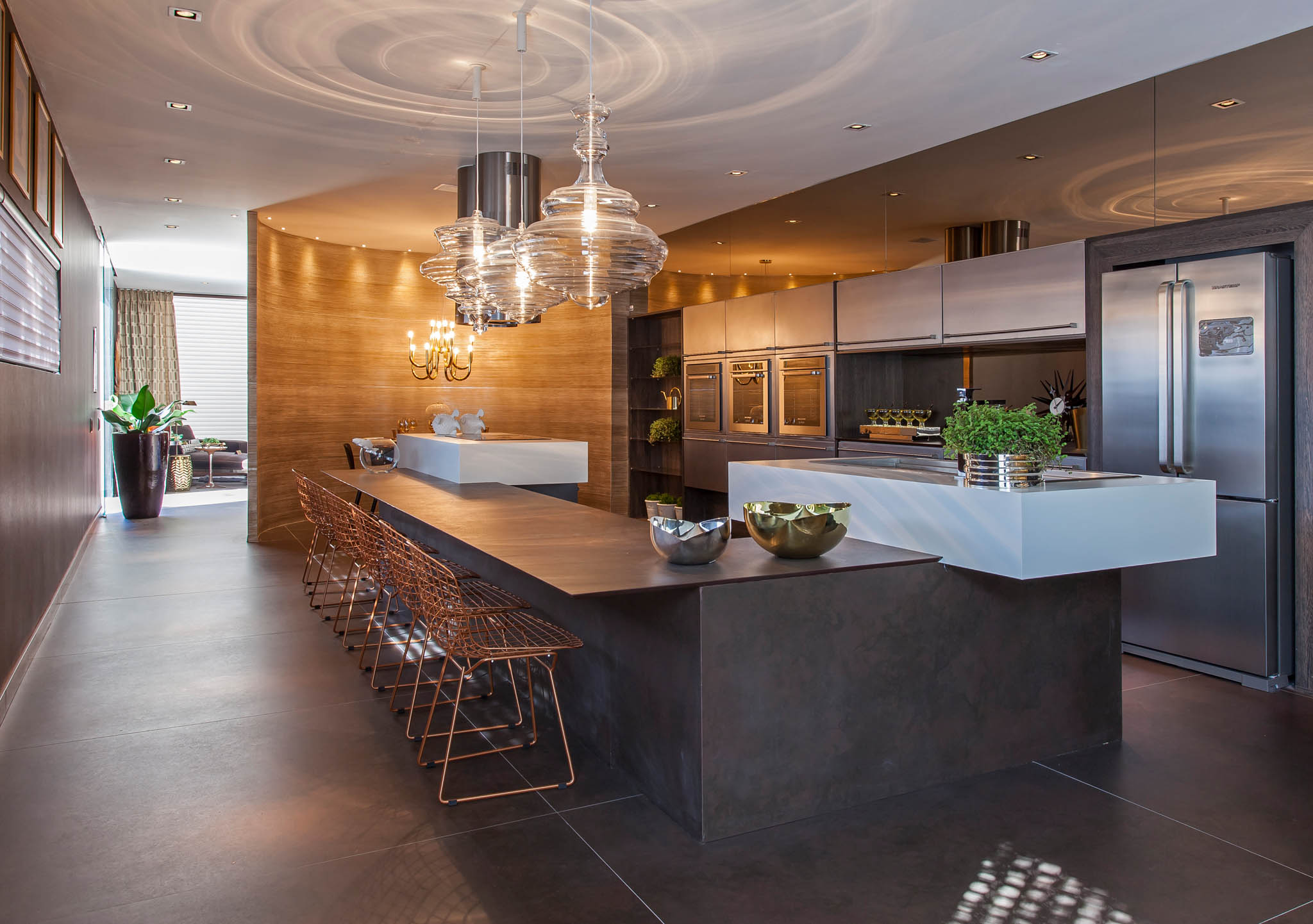 Strobel Design Build proudly features a spotlight on the fine craftsmanship of Dekton. The revolutionary Dekton imagines a new concept in the world of design and architecture. With its sophisticated blend of raw materials used to produce the very latest in glass and porcelain along with the highest quality quartz work surfaces, Dekton is one of several brands that meet our high-quality standards to use in our remodeling projects. Dekton is a material with unique characteristics and infinite application possibilities such as countertops, flooring, siding, and facades for both interior and exterior settings. Dekton's unique flooring scheme and eye catching countertops blend in effortlessly into any room in your home.
Flooring
Dekton floor coverings are a good alternative for area with higher requirements along the lines of performance and design both indoors and outdoors. The revolutionary Dekton properties allow the designers at Strobel Design Build complete freedom in designing the ideal format for your room, without facing the obstacles other materials may present.
Dekton provides continuity between floors of different levels that make it ideal for stairs. With its high flexural strength and high resistance to abrasion, Dekton stairs allow exposed for edges as the volume is colored. Its reduced porosity permits for accessible maintenance and make cleaning a breeze.
Countertops
Dekton is a long-term product for those looking to turn their kitchen into a unique space. Dekton countertops allows for greater potential with installation in one piece…meaning fewer cuts, joints and seams in your kitchen countertops! These countertops have the appeal of a completely uniform surface, which fits seamlessly into various design styles. Dekton combines the qualities expected by the chef in all of us. These countertops have a clean surface that is smooth to the touch and more resistant to all the frequent use that takes places in a kitchen day in and day out.
Cooking is an enjoyable hobby for many, and having the ability to do it outdoors results in even more social gatherings to be shared with good company, especially here in Florida where the weather is pleasant the majority of the year! Due to its ultra-compact structure, Dekton is particularly suitable for outdoor kitchens, bars, and barbecue areas.
The bathroom is the space in the home where hygiene and harmony need to express themselves in the best way possible. A space for personal hygiene, which helps us experience pleasant and relaxing moments, where sensations are literally at our fingertips. The textures and colors are an endless source of inspiration for the design of water-related areas.
Dekton provides strength and style to these spaces, it adds undeniable personality and endless practicality. Dekton countertops are equipped with features including
Stain resistant
Highly scratch resistant
UV resistant
Resistant to fire, heat, freezing, and thawing
Abrasion resistant
Color stable
Virtually zero water absorption
Here at Strobel Design Build, we only offer the best quality products for our clients, whether they are Dekton products, or that of another manufacturer that may better suit the home. Our design experts at Strobel will create a completely customizable design to your style preferences, ensuring that your expectations are our priority.